A long-established resort with a unique story, The Surin is a luxury hotel that boasts an idyllic beachfront location on the exclusive Pansea Beach. The hotel is nestled amongst towering coconut palms and rolling hills on the west coast of Phuket Island. A member of the prestigious Design HotelsTM, The Surin is a serene getaway.
Featuring 103 luxurious cottages and suites, the understated elegance of The Surin shines with its beautiful design. The range of personal amenities and thoughtful touches make the hotel a true luxurious tropical getaway. Spacious interiors allow for complete comfort and relaxation, whether to sleep, simply lounge or be pampered. The hotel's design is classy and elegant. Built into the tropical bay and verdant environment, while no elevators are installed, guests can appreciate the nature through a series of stairs and walkways that connect the resort.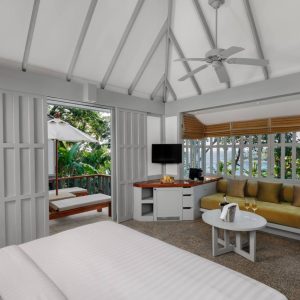 About the Rooms
All Hillside Cottages are situated above the lobby level and at 46 sqm, enjoy the most tranquillity and privacy. Set amongst the treetops, the cottages are cocooned in an emerald veil. Relax under the canopy of mature trees on the private terrace and unwind in beautifully designed interiors featuring a super king-size bed, sofa bed and desk.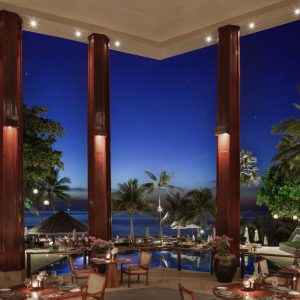 About Dining
Enjoy a delicious array of culinary options from one of our hotel's three outstanding restaurants. Chefs at The Surin are incredibly passionate about what they do, and it shows in each and every dish available on our menus. It is taken advantage of the plentiful local ingredients that Phuket offers, sourcing the freshest fish, juicy tropical fruits or crisp vegetables.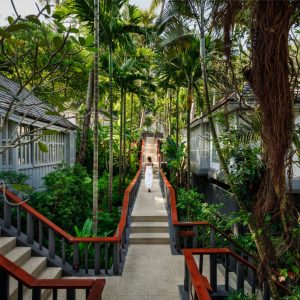 About Facilities and Recreation
The Surin Phuket offers an exciting array of resort-based activities. For those who like to keep fit, the gym is located by the poolside which is perfect for an invigorating workout session. If you are looking to get active on the beach or in the water, The Surin Phuket delivers with complimentary nonmotorized water sports activities.
Please note that this is not a live online booking engine. By submitting your booking inquiry, does not confirm the  booking yet. Our reservation will get back to you with a confirmation and prices. Once you have received our proposal, you have the opportunity to review it before finalising the booking with us.