Set in the heart of Siem Reap town, The Aviary Hotel is a sophisticated urban oasis that has been inspired by nature and Cambodia's rich heritage of traditional crafts. The 43-room eco-friendly hotel in Siem Reap is a relaxing sanctuary filled with locally commissioned artworks, which celebrate the beauty and diversity of the Kingdom's birdlife.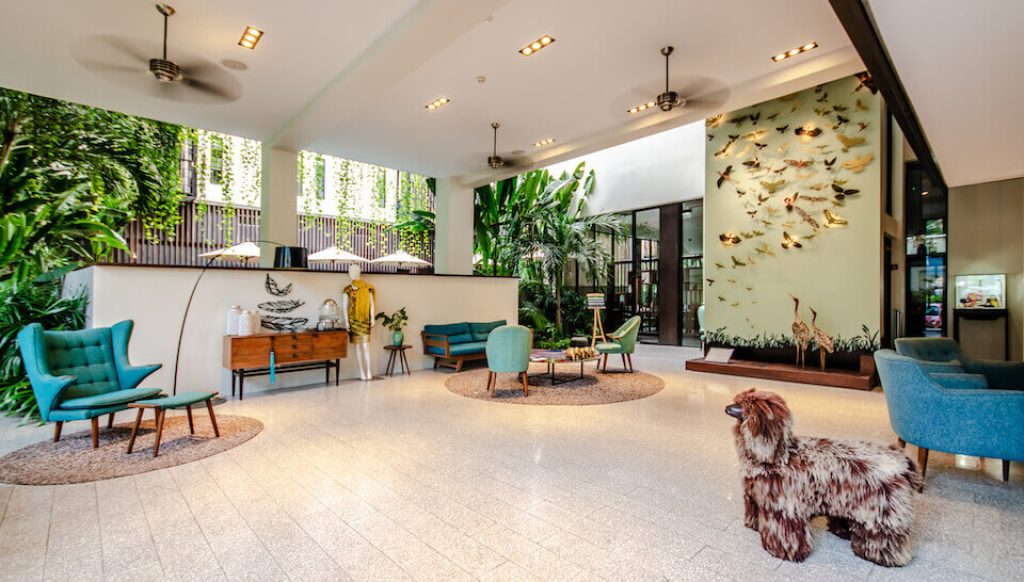 About the Hotel
Luxurious, welcoming and personal, The Aviary Hotel offers thoughtfully designed, quality accommodation in a modern environment with a uniquely Cambodian twist. One of The Aviary's turquoise pools lies at the heart of the hotel, with wonderful views of the vines and flowers that drape over the balconies above. A second pool can be found on the rooftop, overlooking Siem Reap. Take a refreshing dip to cool off from the heat of the day or relax on the comfortable loungers and enjoy the urban jungle that surrounds you.

About the Rooms
Flocks of tailorbirds decorate the walls of the twelve 35-square-meter standard double and standard twin rooms. Handcrafted birdcage lights, water hyacinth rugs, and a private balcony combine to create a relaxing environment with subtle touches of artisanal Cambodia.

About Dining
The avian ambience of the hotel seeps into the dining atmosphere. Among the best places to eat in Siem Reap, four unique dining experiences call The Aviary Hotel home. At Fumizen, satisfying your hunger for authenticity is just as important as filling your belly. Meat and seafood, sushi and sashimi, they're all players in the flavor game, whichever portion you choose. There's nothing better than awaking to a satiating meal full of delectable fare, and The Plumage Restaurant knows it good and well.

About Facilities and Recreation
The Amret Spa is a premium facility that seeks to lend utmost relaxation to every guest. After adventuring through Siem Reap—whether for work or pleasure—it is certain you'll be deserving of a bit of pampering. The first swimming pool—nestled conveniently on the ground floor of the Siem Reap boutique hotel — is available for every guest to help take the edge off. Moreover, The Aviary Hotel is now home to a rooftop pool that lets you take in the Siem Reap skyline any time of day, all while submerging yourself in crisp, refreshing waters.