A tropical resort where travellers can take in the sights and sounds of Koh Phi Phi, Phi Phi Coco Beach Resort awaits you on secluded white sand beaches and next to the crystal-clear waters of the Andaman Sea. The property is close to Pirate Island Adventures and Loh Dalum Bay.
Experience the best service there is in the Phi Phi Island area. The Resort is beautifully decorated with bamboo bungalows. All the furniture is made from pieces of bamboo and features a modern design. At Phi Phi CoCo Beach Resort, you'll find luxurious rooms, amazing service and food, and a great beach. It's simply the perfect escape. The restaurant bamboo architecture is unique combining open air and covered seating areas. The restaurant has an uninterrupted 180-degree view of the surrounding islands. The property is 29 km from Viking Cave and 549 m from Monkey Beach.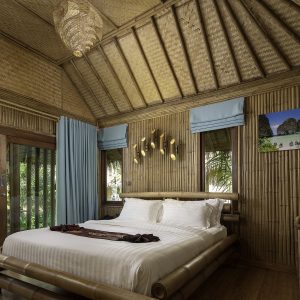 About the Rooms
All the stylish bamboo villas at Phi Phi Coco Beach Resort stand amidst the lush green gardens and are fully airconditioned. There's free Wi-Fi in all rooms and a daily housekeeping service. Bathrooms come with complimentary toiletries and rooms have smart tv's with digital channels. All Bungalows have a balcony and seating area.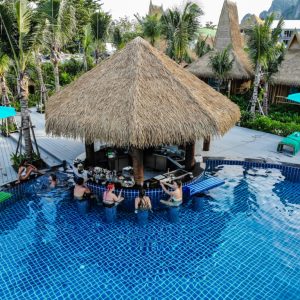 About Dining
Dining on the Beach provides innovative food concepts, great service and of course that famous view and atmosphere. The cuisine is distinctively different and we refer to it as New Asian Cuisine with a cross over accent. Our philosophy combines tastes of east and west, different textures and contrasts of hot and cold to really give your taste buds a treat.

About Facilities and Recreation
Phi Phi CoCo Beach Resort is located in the Phi Phi Islands, less than 1 km from Ton Sai Pier and 3.5 km from Ao Poh Bay. Phi Phi Coco Beach Resort has an outdoor pool and massage services. There's a 24-hour front desk and ironing service. Snorkelling is among the activities that guests can enjoy near the accommodation.
Please note that this is not a live online booking engine. By submitting your booking inquiry, does not confirm the  booking yet. Our reservation will get back to you with a confirmation and prices. Once you have received our proposal, you have the opportunity to review it before finalising the booking with us.