Khaolak Merlin Resort is set in 16 acres of tropical gardens where you can have the best of both worlds – the lush greeneries and white-sand beach. You will find four pools throughout the jungle gardens. Indulge yourself at our beachfront restaurant for an all-day dining experience and at the bars tucked away in the trees.
Immerse yourself in a magical jungle at our unique eco resort. Here at Khao Lak Merlin Resort, we've preserved an element of Khao Lak's original landscape within the hotel where you can discover ancient trees, waterfalls, and the Andaman Sea. Relax in the tropical gardens, take an evening stroll in the sunset along the golden beach, swim in our four stunning pools tucked away in the tropical gardens, or enjoy many eco-activities such as the Night Walk to search for the Slow Lorises and morning birdwatching.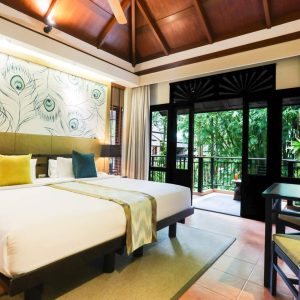 About the Rooms
The resort's 236 rooms boast ample space to relax and recharge, offering high levels of comfort amid the rainforest. Each room features its own private balcony and is equipped with a spacious bathroom with a sunken bath and shower. The subtle earth-tone decorations showcase a combination of modern and boutique vibes.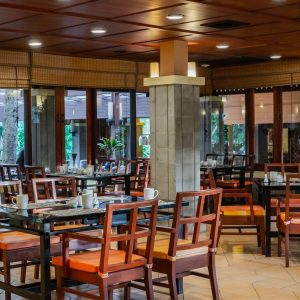 About Dining
Scattered throughout the jungle gardens are our two restaurants, beachfront bar, pool bar and the lobby lounge where you can enjoy drinks, snacks, and delicious meals. Start your day with our extensive breakfast buffet, enjoy a casual lunch by the pool or beach, and have some drinks while watching the sun set over the Andaman Sea.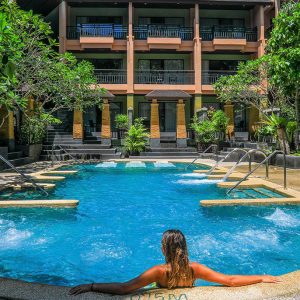 About Facilities and Recreation
There is a nature trail running through the grounds with a range of ecoactivities. Sport facilities are also available, including kayaking, stand-up paddle boarding, volleyball, tennis, and table tennis. Surrounded by greenery, the four pools and swim-up bar are connected by waterfalls. There is also a separate splash pool for kids where they can play on the waterslide.
Please note that this is not a live online booking engine. By submitting your booking inquiry, does not confirm the  booking yet. Our reservation will get back to you with a confirmation and prices. Once you have received our proposal, you have the opportunity to review it before finalising the booking with us.