Situated on one of the last unspoilt beaches in Thailand with 3 km of open sand, sea and sky and surrounded by natural greenery and waving palms, this is the answer to anyone seeking peace, quiet and tranquillity. Kantary Beach offers you both suites and independent villas, restaurants, and a sunset bar.
Kantary Beach Hotel consists of blocks of low-rise suites each with a separate bedroom. The suites are sited near to two fresh-water lagoons surrounded by trees. A short stroll takes guests to the on-site mini-mart and the Andaman restaurant. The Garden Pool has a swimup bar, and the large infinity pool is by the beach. On the grassed area towards the beach, you'll find independent villas with separate lounge and bedroom plus the additional feature of an outdoor shower.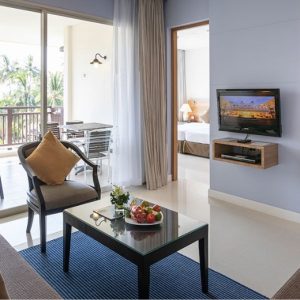 About the Rooms
The suites are 58 sq. metres consisting of a lounge with sofa and wide-screen television. Bedrooms have king-sized beds and large wardrobes. Bathrooms have a walk-in shower and bathtub. The 60 sq. metre-villas offer an intimate lounge, a spacious bedroom with wardrobe and a bathroom with open air shower. The villa opens onto a small independent patio area.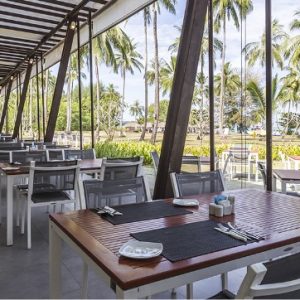 About Dining
The Andaman Restaurant set amid a coconut grove and overlooking the beach offers all-day dining and, above it, Otter's Bar is the ideal place to enjoy a relaxing afternoon beer or a delicious cocktail in the sunset before dinner. The Similan Restaurant on the beachside provides a unique fine-dining experience.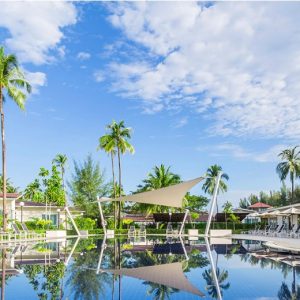 About Facilities and Recreation
There is a professionally appointed fitness studio, a games room for children and the hotel's location and excellent conference facilities makes it ideal for anything from a small confidential meeting to a substantial product launch. The dedicated Wedding Planner and team will make a success of any marriage celebration or banquet.
Please note that this is not a live online booking engine. By submitting your booking inquiry, does not confirm the  booking yet. Our reservation will get back to you with a confirmation and prices. Once you have received our proposal, you have the opportunity to review it before finalising the booking with us.