Anantara Lawana Koh Samui Resort offers luxurious island getaways on buzzing Chaweng Beach. Villas cluster around palm-fringed lagoon pools, reminiscent of the early Sino-Thai settlements. Anantara Lawana is a smart and beautifully landscaped beach resort which exudes contemporary luxury with Thai and Chinese design touches.
The Anantara Lawana is an attractive beach resort close to Samui's nightlife. It offers pool villas with great amenities along a fine stretch of sand. Its Tree Tops restaurant is one of the island's most romantic dining experiences. At The Anantara Lawana there are over 100 villas and rooms rolling down a hillside to the sea. Rooms in two-storey houses and stand-alone pool villas provide a great sense of privacy, while the beachfront with its long pool, scores of deckchairs, a bar and restaurant terrace invite guests to interact.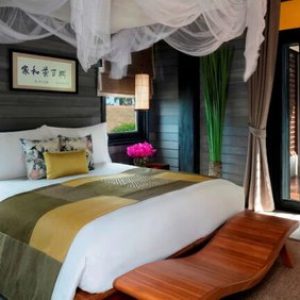 About the Rooms
Rooms are on two floors in Thai-style houses – their design is partly inspired by traditional Thai bird cages. The spacious ground-floor rooms come with plunge pools and some of the bathrooms are fitted out with openair rain showers. Even better are the sumptuous pool villas, which are either clustered around large communal pools or come with their own private pools.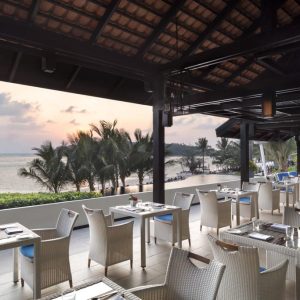 About Dining
The seaside Ocean Kiss restaurant has two kitchens, with one dedicated to Thai food and the other to international fare. The culinary highlight is the intimate Tree Tops restaurant with just eight tables in their own raised Salas; each is surrounded by tropical foliage and connected by wooden walkways. The food has an emphasis on Mediterranean and French dishes.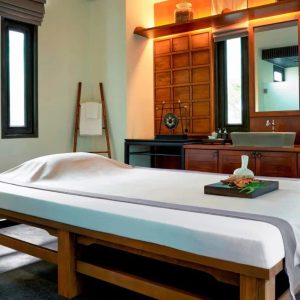 About Facilities and Recreation
The 25-metre pool overlooks the beach with plenty of sun loungers, umbrellas and a bar that serves cocktails and light meals. The library offers a decent selection of books on Thailand and several computers. There's a gym and daily complimentary classes of Thai Chi and yoga are popular. The spa has six treatment rooms and a steam room.
Please note that this is not a live online booking engine. By submitting your booking inquiry, does not confirm the  booking yet. Our reservation will get back to you with a confirmation and prices. Once you have received our proposal, you have the opportunity to review it before finalising the booking with us.